KARLA STEINGRABER, Psy.D. PRESIDENT & LICENSED CLINICAL PSYCHOLOGIST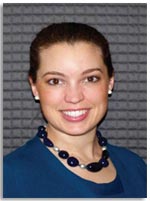 Karla Steingraber, Psy.D. is highly skilled to provide you with the specialized care you are seeking. She can provide treatment in a multitude of areas: whether it involves individual life transitions, post-partum depression, childhood behavioral disorders and parent guidance, child therapy, LGBT-specific concerns, or psychological, emotional, cognitive and neuropsychological testing, your care will be attentive and professional.
Dr. Steingraber completed her BA at Duke University in Durham, North Carolina and earned her doctoral degree in Clinical Psychology at The George Washington University in Washington, DC. She completed her internship at McGill's teaching hospital, the Montreal General Hospital (MGH), with rotations in the Psychiatry Department of the ER, transitional day program, and in MUSIC, the LGBT clinic where she conducted individual, couples, family, and ongoing group therapy. She worked with issues relating to sexual orientation, relationships and marriage, and substance use. Dr. Steingraber finished her residency in neuropsychology at RENEW and LifeQuest in Sheridan, Wyoming while working for a residential treatment program for adults with a brain injury and brain trauma.
She also has worked as the head of various multidisciplinary treatment teams for a residential facility for individuals with a developmental disability, and in outpatient practices where she began a support group program with grant funding from the Department of Child and Family Services (DFS) for foster parents and foster children, to assist foster parents with understanding the manifestations of trauma and learning how to parent children exhibiting unusual and difficult behaviors. Accomplishments of the group included statistically significant reduction in anxiety in foster parents, increase in self-esteem and success in parenting, and reduction in reliance on emergency phone calls to the clinic and DFS.
Dr. Steingraber has extensive experience supervising doctoral-level psychology interns at an APA-approved training site. She has been actively involved in Good Shepherd's weight-management program and lead an ANAD support group for compulsive eating disorders at Highland Park Hospital for several years. She is certified in QPR to train lay people in suicide prevention by recognizing signs of suicidal thinking and encouraging early intervention.
She presently works in private practice in Skokie and Park Ridge. Despite her diverse experiences and background, she considers herself a specialist in child development and parenting work as well as suicide prevention and issues that arise in LGBT relationships and adults dealing with life transitions.
Her work includes conducting individual and group therapy with adults and adolescents, and play therapy with children, while also offering parent guidance. She specializes in counseling LGBT couples in relationship problems and partners in gay marriages. She provides psychological, emotional, and cognitive testing, as well as neuro-psychological screenings to assess for changes resulting from brain trauma and damage, brain changes in cancer survivors due to chemotherapy, and the long-term effects of concussions.
She has joined the Park Ridge Chamber of Commerce, was recently made the Membership Chair, after her tenure as Associate Chair and later Chair of the Early Career Psychologist (ECP) Section of the Illinois Psychological Association (IPA), and maintains active membership in the IPA, American Psychological Association (APA), and the North Shore Alliance for Psychotherapists (NSAP).